Hire a Freelance Web Developer to Build Interactive Websites and Web Apps!
At Freelancerforseo provides a platform for freelancers and website developers to collaborate using technology, innovation blended with creativity. We ensure professionals and businesses collaborate together to transform businesses digitally. Our talented and award-winning freelancers build scalable websites using cutting-edge solutions. They build websites and web apps using the latest technologies as demanded by the client. Get the best responses of users on your websites, and build your business with seamless website designs and smooth codes with our professional website development services.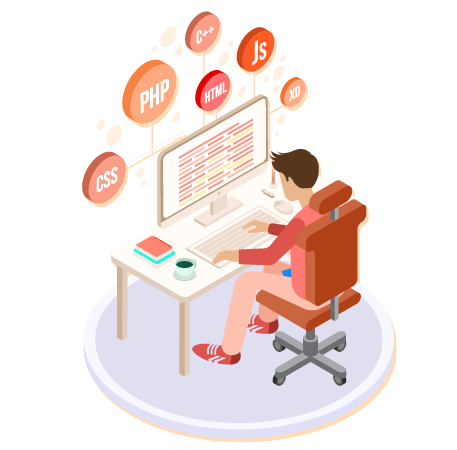 What are the advantages to hiring Freelance web developers?
The advantages to hire freelance web developers are mentioned as below:
Analyze portfolios: You can analyze portfolios of freelance web developers on this platform to determine the best candidate for your project.

Multiple options: You can browse among many professionals to pick the right professional for your project based on their skills and experience.

Talented professionals: Most of the freelance web developers come from good academic and industry backgrounds. We ensure to work with the best freelancers, so you can find the talented professionals on our platform without any issues.

Scalable Solutions: Our freelancers ensure providing scalable website development solutions utilizing cutting-edge methods.

Competitive pricing: Among talented web developers, the higher competition brings an opportunity for the clients to check on the competitive pricing.
Hire the Best Freelancers With Us!
Hire the best freelancers with Freelancerforseo and turn your ideas into reality with digital transformation of your business. Our platform helps freelance web developers and businesses to build a strong communication, and achieve big targets by meeting the right individuals online. Our freelancers provide insights to the clients how they will work on the project in the beginning. Before starting working on the project, they clarify the plan to the client to enable the track the progress option.
Why to Shake Hands with Us?
Experienced professionals: Our platform has a team of experienced professionals meeting the unique requirements of clients utilizing the result-oriented techniques.

Quality work on time: The freelance professionals provide the quality work on time to the clients. Get your work done by professionals on time with Freelancerforseo.

Competitive pricing: Our freelancers are experts and due to the high competition they offer competitive pricing to the clients. They deliver the premium quality work at the best prices.

Transparency: Our freelancers maintain the transparency of the process to provide insights to clients how the work is going on the project.

Working on all size of projects: We collaborate with all types of freelancers working on small, medium size, and large organizations. So either you are a startup, medium size business, or a large organization, you will get the best professional for your business's unique needs.

Track the progress: Track the progress of your project online by asking our professionals. They maintain the transparency of the project so that the clients can easily track the progress.

Flexible timing: The clients can avail the offer of flexible time if they want to get the work done on flexible timing as per their preference.

Pay when you are satisfied: You are obliged to pay if the work done is satisfactory and up to your expectations.
Yes, you can do freelancing as a web developer with Freelancerforseo, a reliable platform for a wide range of digital marketing services.
Website developers can make in millions based on their skills and experience. So if you possess the relevant skills and experience, you can also make a good income.
The charges of freelance website developers may change from one to another based on their skills and experience.
Freelancerforseo is one of the best websites for website developers. It provides opportunities to both freelance website developers and clients to collaborate together. It is a secured platform where all clients and freelancers can freely communicate and work to meet the unique requirements of businesses on time.
A freelance website developer needs to hold the following skills:
Coding
Problem-solving
Communication
Interpersonal skills
Listening skills
Time-management
Sign Up on Freelancerforseo and start bidding on different job projects. Post your portfolio and attach it to the job proposals . Ensure to attach your portfolio on relevant job posts to build the credibility of your profile, and raise the chances of selection.
You can start developing websites with different languages, but HTML and CSS are must to get started as a web developer.
HTML, CSS are a must and Javascript and C++ can be an add on in your portfolio.
If you want to start freelance web development, then visit Freelancerforseo and you will be able to browse the portfolios and post job offers.
Get freelance web development jobs in the USA at Freelancerforseo itself. You can get project based freelance work and make good income with relevant skills and experience.